Wine Institute of New England
presents
Uncork Your Inner Wine Expert!
at
The Connecticut Wine Festival
on the Green at the Durham Fair
Saturday, September 28th
and
Sunday, September 29th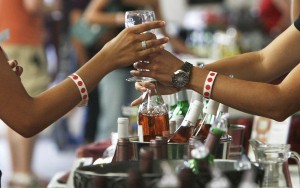 Renée Allen, Director of the Wine Institute of New England and winner of Connecticut Magazine's 2013 Best of CT award for wine appreciation, will be conducting wine seminars during the CT Wine Festival at the Durham Fair on Saturday, September 28th and Sunday, September 29th.
Renée, a Certified Specialist of Wine, will cover wine tasting techniques and varietal information, and will offer terrific tips that will have you sipping like a pro this fall.
The Durham Fair will be hosting the Connecticut Wine Festival on the town green during the 94th Annual Durham Fair from September 26-29, 2013. For a small additional fee, fairgoers of legal age will be able to sample wines produced in Connecticut from CT grown fruit from seven of our Connecticut wineries. The participating wineries are Bishop's Orchards Winery, Gouveia Vineyards, Hopkins Vineyard, Jonathan Edwards Winery, Jones Winery, Priam Vineyards, and Sunset Meadow Vineyards.
The Wine Festival will be open on Friday and Saturday from 12pm to 8pm and on Sunday from 12pm to 6pm. The separate charge for entering the Wine Festival is $12 on Friday and $15 on Saturday and Sunday. 28 different wines will be available for sampling. In addition there will be a wine store where the local wines can be purchased, to be picked up once the guest leaves the Fairgrounds.
To complement the Wine Festival, there will be entertainment from the Green Stage and a Cabot Cheese sampling. Daniel Miramant, President of the Durham Fair Association, expressed his enthusiasm about including the Wine Festival: "This festival is consistent with our focus on education in agriculture this year and we are proud to be hosting one of two State sponsored Wine Festivals at our Fair this year."
For information, visit: www.durhamfair.com