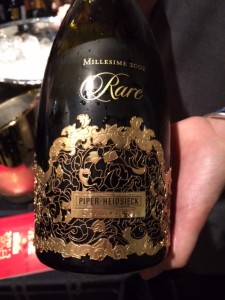 Nightcap #12: Piper Heidsick Cuvee Rare Brut Millesime 2002, France $145
Christmas is finally upon us and it's time to put a halt to present shopping and cookie swapping, and get to some popping. While I am a big believer in bargain bottles, there are times when splurging is in order. And if you're going to splurge, make sure you do it right. At a recent Champagne tasting I attended in NYC, I had the pleasure of sampling 40 of some of the best Champagnes available at the moment. The offerings spanned a wide range of prices, from under $30 to several hundred. In the mix were such big boys as vintage Krug, Dom Perignon, and Cristal. Many of these coveted sparklers tickled my fancy but, in the end, there were a select few that stood out from the crowd.
Although it might lack the glamour and cache of some of today's trendier wines, Piper Heidsick has, to my mind, always delivered a solid and consistent product. I had wandered away from PH, lured by the call of the boutique Champagnes that are currently under the spotlight. I am happy to have arrived back home just in time to taste the Rare 2002. Industry experts have remarked on Piper Heidsick's improvement in quality over the last several years. If one was in need of proof, Rare 2002 provides it in spades. It is beautifully balanced, possesses great structure and boasts a menagerie of fruits. It provides the perfect measure of toast and a lingering finish that's both elegant and intense. It is a beautiful note on which to end.