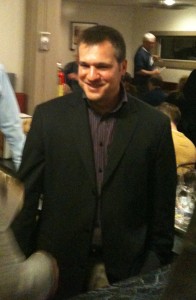 I had the pleasure of attending my first wine tasting event at Divine Wine Emporium in Niantic last Wednesday. The Emporium is a liquor store with a "learning center" in the back for wine events. The store is well laid out, warm, friendly and interesting. Little touches catch one's eye, like the collection of antique wine bottle openers at one end of the store. The owner, Ken Turcotte, is knowledgeable and passionate. After perusing the shelves, I headed for the back room. The event was packed, every seat was filled and bodies lined the walls. Things were getting warm and the wine had yet to be poured. The main event? Marcus Notaro, head winemaker at Col Solare vineyard in Washington State. Mr. Notaro looks too young to be a head winemaker but, after listening to him speak, I'm convinced he's up to the task.
Mr. Notaro spoke of the unique topography in Washington and how it affects viticulture. According to Mr. Notaro, Argentina is the only other region in the world that is topographically similar to Washington. It is this unique topography, he continued, that brought Piero Antinori to Washington in 1992, known for his lifelong curiosity about how grapes are grown around the world. Upon seeing the Washington wine region, led by the oldest and highly acclaimed winery, Chateau Ste. Michelle, Antinori formed a partnership with CSM for the purpose of producing fine, cabernet sauvignon based wine. Their search for the right terroir brought them to Red Mountain, the warmest of the Washington AVAs. The nutrient-sparse soil, warm days with cool nights, and low rainfall was ideal for producing wines that met Antinori's requirements: 1) ageability; 2) good intensity of flavor; and 3) authenticity. And so, a vineyard marrying old and new world styles and philosophies was born. Col Solare is the child of that marriage. It is Italian for "shining hill."
Mr. Notaro was informative, eloquent and engaging. But how did the wines fare?
1. Chateau Ste. Michelle 2009 Pinot Gris – straw color with apple and pear on the nose. The flavor smacked of green apples. Acidic, thirst-quenching, not too much complexity, with a slightly tart finish.
2. Villa Antinori 2009 Villa Bianco Toscana IGT – made from trebbiano and malvasia, pinot bianco and pinot griogio, the color was pale straw yellow. I found the nose to be intensely herbaceous and floral which carried through to the taste. There was a slight woodiness to it.
3. Chateau Ste. Michelle 2007 Syrah – light garnet with fair clarity, the nose jumped with smoked meats, spice and dark fruits. This cured meat aroma was present in the flavor, along with spice, followed by dark berries and molasses.
4. Villa Antinori 2007 Villa Antinori Rosso Toscana IGT – sangiovese, cabernet sauvignon, merlot and syrah. Ruby red with good clarity, there was earth and tar on the nose. The flavor opened up with this earthiness, giving way to jaminess with currants and cherries. Nicely complex. One participant described this wine as "musical."
5. Col Solare 2006 Shining Hill Red Blend – merlot, cabernet sauvignon and a touch of syrah. Dark ruby with a hint of smoke on the nose, the flavor was smokey and peppery with black fruit spice on the finish.
6. Col Solare 2006 Red Wine – predominantly cabernet sauvignon, with merlot, cabernet franc, petit verdot and syrah. Garnet hued, aromas of cigar box and dark berries rose from the glass. This full-bodied wine was well-balanced with black cherries, pencil shavings and chocolate notes leading up to a long silky finish.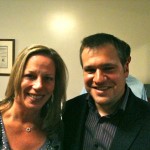 Notes:
After noticing a heavy smoked or cured meat aroma and flavor in the Col Solare wines, I wanted to know more about the cooperage. Mr. Notaro explained that they use a combination of new and old oak, as well as a combination of American and French oak, and that all of the barrels are charred. I could attribute the toasty aromatics to the charring, almost like a bbq flavor or, the way Mr. Notaro described it, like a marshmallow that's been toasted over an open fire just a little too long.
Special thanks to Ken Turcotte, owner of the Divine Wine Emporium, for putting together an enjoyable and informative tasting. I look forward to spending more time in the learning center.