Wine Institute of New England
to present a wine appreciation seminar
at
The 5th Annual Connecticut Wine Festival
Goshen Fairgrounds
Saturday and Sunday, July 27th & 28th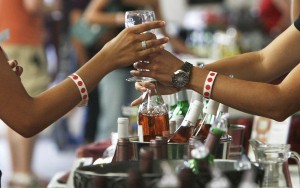 "Have A Grape Day"
The Connecticut Wine Festival will be returning for a fifth year of showcasing Connecticut's wines, a reflection on the growing popularity of our local wines.
"From international gold medals to 'people's choice' and 'Best in Show' awards, Connecticut wines continue to win fans and impress connoisseurs from around the world," said George Motel, Festival Chairman and owner of Sunset Meadow Vineyards. "The Connecticut Wine Festival is a true showcase for introducing wine lovers to much of our state's home-grown offerings. We look forward to another record year, and the opportunity to prove that our wines are truly the 'hidden gems' of the industry, as The Wall Street Journals calls them."
The Festival will be staged again at the Goshen Fairgrounds in Litchfield County. Sponsored by the Connecticut Vineyard and Winery Association (CVWA) and presented by the CT Wine Trail, the Festival features fine wines from a wide variety of local vintners, making it one of the "must attend" events of the summer. The Festival also features wine classes, specialty food vendors, artisanal crafts, and a variety of live musical entertainment.
Renée Allen, Director of the Wine Institute of New England, will be conducting a wine appreciation seminar at this year's Festival on Saturday, July 27th from 1:30-3:00 pm. Renée, a Certified Specialist of Wine, will cover wine tasting techniques and varietal information, and will offer terrific tips for getting even more enjoyment out of your wine.
The specialty food vendors are primarily members of the Connecticut Specialty Food Association, an association that is part of the Connecticut Food Association. They feature local foods made in Connecticut. Adams Hometown Market, a Platinum Sponsor of the Festival, will also sell advance tickets at its stores throughout Connecticut and Massachusetts.
Daily admission to the CT Wine Festival is $25 in advance, available through July 19th at any participating CVWA winery, online, or by phone, and $30 at the door. These tickets include free wine tastings, a commemorative festival wine glass (for the tastings) and a tote bag. Guests under 21 and Designated Drivers can attend for a reduced admission price of $10. Photo ID with proof of age is required for the wine tasting. Hours for the Festival are 12:00 Noon to 7:00 PM, Saturday, July 27; and 12:00 Noon to 6:00 PM Sunday, July 28. More information and a complete list of participating wineries can be found at www.ctwine.com.
Festival proceeds are used to promote the CVWA Wine Trail and the Connecticut wine industry. The CT Wine Trail, a state approved winery and vineyard awareness program, features trails that wind their ways through some of the most scenic and historic regions of Connecticut.
"The Connecticut Wine Festival is a great place to come and enjoy the day, taste some local wines, some great food and relax." said Sherrie Palmer, the festival director. "Cases of wine will also be available at a discount, so guests can easily make back the price of admission in great savings. What more can you ask for?"
For more information and to purchase tickets, log on to www.ctwine.com. You can also email info@ctwine.com or call (860) 677-5467.