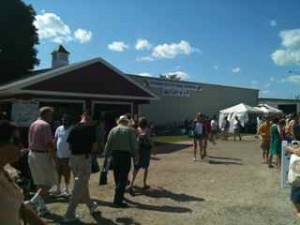 It was a perfect summer day for the throngs of people who streamed into the Goshen Fair Grounds to partake in the third annual Connecticut Wine Festival this weekend. Over 8,000 attendees tread the grounds during the course of the weekend, a remarkable 50% increase from last year's event, according to Festival Chairman, George Motel. Mr. Motel's winery, Sunset Meadow Vineyards, was one of fourteen Connecticut wineries represented, all of which are members of the Connecticut Wine Trail. (http://ctwine.com/) Specialty food vendors, jewelers and musicians were also represented. Upon entering the grounds, friendly women clad in purple tee shirts handed out programs, wine totes and wine glasses etched with the words "Connecticut Wine Festival." This would be the one and only glass I would use throughout the event so I made sure to baby it as I headed out on my wine quest. The wineries were set up inside two buildings, segregated by their location in the state – Eastern Connecticut and Western Connecticut. One hour into the event, and the crowds were already gathered four rows deep in front of every winery. Each winery was strictly limited to pouring only four of their wines. Most wineries opted for a combination of white and red wines, with the occasional rosé making an appearance. Water pitchers and spit buckets were at the ready. Friendly and knowledgeable people poured briskly, trying to keep pace with the eager tasters. Many of the winery owners, themselves, were pouring the wine and answering questions. If a taster found something she particularly cared for, she could opt to buy a glass of it for drinking right on the spot, or purchase a bottle to consume on the grounds or at home.
My first stop was Jonathan Edwards Winery where they offered pours of both Connecticut grown and Napa grape wines. Jones Winery brought crisp chardonnay and refreshing First Blush, a blend of apples, pears and black currants and the perfect antidote to the heat. Sunset Meadow Vineyards, always a crowd pleaser, had Sunset Blush and Cayuga White on hand. I was especially excited to visit their table after recently spending an evening at their vineyard for a beautifully put-together and well-paired farm to chef wine dinner. Other interesting finds included the Hungarian grape, bianca, and the pinot noir mutation, corot noir, at Land of Nod, a 100% riesling flavored with natural peach essence from Taylor Brooke Winery, and a lovely Alsatian-style riesling from Priam Vineyards, bottles of which were just flying out of the booth. I made sure to stop by Sharpe Hill Vineyard for a taste of
their renowned Ballet of Angels, a semi-dry white that is a proprietary blend of 12-14 grapes. Most, if not all, of the wineries offered the off-dry to semi-sweet wines so popular in this state, with only the occasional truly dry wine being found. Bishop's Orchards Winery and White Silo Farm, both fruit wine specialists, saw a steady stream of sippers.
As I navigated the lines from winery to winery, I stopped to chat with as many people as I could to find out where they had come from and what wines they were enjoying the most. All corners of the state were represented and every guest had their own wine preference – some sweeter, some drier, some fruit. Some guests seemed knowledgeable about Connecticut wineries, already professing a favorite from prior visits along the Connecticut Wine Trail, while others were discovering our state's wineries for the very first time. One Connecticut resident out supporting local agriculture on Sunday was Governor Malloy, who made a personal appearance at the Festival and visited all 14 of the wineries. Apparently, he was so inspired by what he found that, after the Festival, he paid a visit to Sunset Meadow Vineyards for a tour, and returned to the Governor's mansion with at least a few bottles in tow. Overall, the crowd was very young, comprising approximately 60-70% of the total guests. According to Mr. Motel, last year's group comprised a similar makeup. I stopped to talk to two women taking a momentary hiatus from imbibing. Lynn Allen and Carrie Traverse, from Wallingford and East Haven, respectively, were visiting the Festival for the second year. And although they remarked, as many did, on the number of people present, it was clearly not an obstacle to an enjoyable time. They were especially appreciative of the appearance of the fans this year. Both women had previously been to the two wineries in Wallingford, Gouveia Vineyards and newcomer Paradise Hills Vineyard, and were hopeful to see Paradise Hills included in next year's Festival.
For those requiring some sustenance to get them through the afternoon, food vendors could be found both inside the
buildings and elsewhere on the grounds. Lunch selections included chicken and beef on sticks, fresh potato chips, organic beef burgers and, of course, cheese platters. I noticed there was a constant crowd of people at Little Sister's Grilled Cheese truck where one could get a variety of grilled cheese sandwiches, including goat cheese with honey, or tomato, mozzarella and basil. After bumping into winery owner, Eric Gorman, at the Blue Moon booth buying cheeseburgers for his staff, I was persuaded to head back inside to sample some rhubarb wine from his winery, White Silo Farm. I was greatly rewarded. The white rhubarb wine was delicate, slightly tart and quite pleasing.
Back outside, I came upon a tented section showcasing several specialty food vendors, including Ola! Granola, Cato Corner Farm and Peace Tree Desserts. I picked up a few items at each of these tables, including some heavenly Applejack Cajeta Caramel from Peace Tree. Owner, sustainable pastry chef, Robyn Eads, told me this authentic Mexican style caramel sauce was handcrafted with goat's milk from Connecticut family farms. It was so delectable, I decided to bring home the Curry Cajeta Caramel, as well.
Although not a recreational activity for those shy of crowds, the Connecticut Wine Festival provides a wonderful opportunity to see and taste what Connecticut wineries are creating in a festive and friendly atmosphere, as well as sample some of Connecticut's specialty food offerings. Will the Connecticut Vineyard & Winery Association be sponsoring a fourth Connecticut Wine Festival? Absolutely. As Mr. Motel explains, "This is a great event for (Connecticut wineries) to showcase our wines and create better awareness of the Connecticut Wine Trail." Current plans are to keep the event at the Goshen Fair Grounds and to spread the wineries out a little more to better effectuate flow of traffic. I have no doubt that I will be heading back up to Goshen next year to participate in this fun and well-run event.