LOCAL WINERIES CELEBRATE 30th ANNIVERSARY
WITH
WINE, CHEESE AND CHOCOLATE
The Southeastern New England American Viticultural Appellation (SENE AVA) is celebrating its 30th anniversary this year. Formed in 1984, this AVA brings together wineries from Cape Cod and the Islands, all the way through South Coast Massachusetts and down to coastal Rhode Island and Connecticut.
As part of the celebration, the Coastal Wine Trail will be having a Wine, Cheese and Chocolate Festival this Saturday, June 21st, 2014, from 11:00 am to 8:00 pm at the Westport Fairgrounds in Westport, Massachusetts.
The Coastal Wine Trail is comprised of 10 wineries that span from Stonington, Connecticut all the way through the Newport, Rhode Island region up towards the South Coast of Massachusetts and down to Truro, Cape Cod. Each winery is located along the scenic Atlantic shoreline, making the Coastal Wine Trail a great 2-3 day weekend trip for sightseers and wine lovers.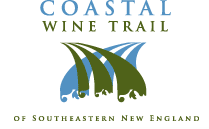 Wineries currently in the Coastal Wine Trail include Connecticut's Stonington Vineyards, as well as Coastal Vineyards, Greenvale Vineyards, Langworthy Farm, Newport Vineyards, Running Brook, Sakonnet Vineyards, Travessia Winery, Truro Vineyards, and Westport Rivers Winery.
"Although each winery is located within close proximity to the coast, they all have very unique identities" said Kaisa Holloway Cripps of Running Brook Vineyard. "Each winery has a distinct atmosphere which makes the trail a diverse and interesting experience for travelers."
All ten of the Coastal Wine Trail wineries will be serving wine tastings at the Festival. Tickets cost $25 in advance and $40 at the door. For tickets and more information, click here: Wine, Cheese & Chocolate