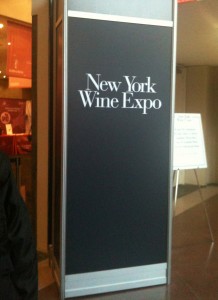 If ever I wished for a day that had more hours in it than 24, yesterday would have been that day. I attended the International Restaurant and Foodservice Show of New York at the Javits Convention Center. I was excited to peruse the aisles of the Japan Pavilion section while sipping sake, and cruise the endless rows of cheese and baked goods. But the real reason I dragged myself out of bed at 6:15 on Sunday morning was just down the hall from the show – the New York Wine Expo. Upon learning that the Expo was showcasing over 640 wines from over 160 winemakers from all over the world, I steeled myself for some serious sipping. With so many wines and so few hours, though, where does one begin?
I started at the row of wineries from the Finger Lakes. I was curious to see how these wines would stack up against the Connecticut wines with which I have become familiar. The similar climates made for a credible comparison. I found several respectable Rieslings, a grape which fares well in the cool weather of New York. Among my favorites were Glenora Wine Cellars 2009 Dry Riesling and Dr. Frank's Vinifera Wine Cellars 2009 Dry Riesling. Both tasted well-balanced, Dr. Frank's showing a bit more minerals and slight effervescence, and Glenora showing a little more body than some of the other New York Rieslings sampled. Unoaked chardonnays were well represented. A 2006 Chardonnay from Shaw Vineyard was mineralic, dry, lightly fruited and altogether pleasant. Two stand out wines made from Cabernet Franc, my favorite red grape grown in Connecticut, were a 2007 from Fox Run Vineyards and a 2006 from Shaw Vineyard, which positively exploded with sour cherries and earthiness. But my favorite Cabernet Franc expression was the 2008 Cabernet Franc Ice Wine from Fulkerson Winery. It was silky, luscious, not cloyingly sweet – a surprising treat. Wagner Vineyards made a solid showing in the Ice Wine category with a 2008 Vidal Blanc Ice which began with a burst of pepper that quickly receded and was replaced with big fruit flavors.  I was delighted to try a grape variety with which I was not familiar, called Rkatsiteli. Native to Soviet Georgia and grown in Estonia and the Ukraine, among other places, Rkatsiteli is one of the oldest vinifera grape varieties known. The 2008 from Dr. Frank's Vinifera Wine Cellars showed crisp acidity with nice fruit, a hint of spice, and a floral nose.
Satisfied that I had achieved a good sampling of wines from New York, I headed for Spain, home to many of my favorite wines. A table with a large "Organic" sign above it caught my attention first. Bodegas Parra Jimenez had many offerings, and all of them were in fact organic. I spotted a Verdejo resting in a tub of ice. Although my Spanish wine preference is for the most part for reds, I recently took a strong liking to Verdejo. Considered one of the best quality whites in Spain and usually associated with the Rueda DO, it is a crisp, floral wine with nice body that pairs spectacularly with oysters. This particular wine had a bouquet of tropical fruits and flowers that foretold the panoply of exotic tropical flavors that lay within. An absolute winner. Unfortunately, I was not as impressed with the representatives of Bodegas Parra Jimenez as I was with their wines. After tasting a Graciano, poured by the young woman behind the table, I commented on the rather decent amount of tannins I was getting from the wine. With a look that conveyed both complete disinterest and a modicum of disdain, she stated that Graciano was thin-skinned and therefore lacking in tannins. Really? Although they develop beautifully during aging, young Graciano wines are quite tannic, even tart. I suggest if a winemaker is looking for positive exposure in the hopes of winning over the American public, next time send someone who at least knows the wines she is pouring and, oh yes, someone who actually gives a damn.
Spain proved to have many other winners, but the two that stood out for me were wines made from the Bobal grape. Llanos del Marques 2009 was rich with berries and strong in tannins. Realce Bobal Reserva 2004 was positively huge and chock full of cherries. If you have never experienced Bobal, I highly recommend you do so.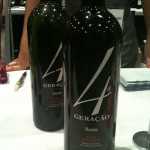 I was excited to seek out other unusual or less common grapes. I headed for Brazil. There I found a wine from Dom Candido made from the Marselan grape. Marselan, a French grape that is a cross between Cabernet Sauvignon and Grenache, arrived in the United States in 2007. The wine was smooth, velvety and rich with berries. In Brazil I also found several wines with Tannat in the blend, including a very good Touriga Nacional/Tannat blend from Lidio Carraro Elos. From the South West of France, and now the prominent grape in Uruguay, Tannat is beginning to be used more by other countries as a blending grape. Tannat grown in France is considered one of the four most tannic grapes in the world. Tannat grown elsewhere tends to be somewhat lower in tannins. The Brazilian blends were tannic, without being unpleasantly so.
The last stop on my wine travels was Greece, where I discovered four more grapes new to my palate, all native to Crete, and all in wine by Lyrarakis. The first, Vilana, although not offensive, was much too light for my taste. However, the second white grape I tried, Dafni, made my heart sing. It smelled and tasted remarkably like bay leaves, with a hint of eucalyptus, and citrus notes. It would pair perfectly with curry and other Indian food. I look forward to finding more examples of this varietal. A red variety, Kotsifali, was warm with red berries and had a very smooth finish. The final grape of the four was Mandilari. Unfortunately, I think I had reached my saturation point and was unable to give it an intelligible review. I will have to try this again another day.
It was at this point that I was treated to something quite special – a "cava" from Lyrarakis called "Symbolo." Cava means best of the cellar and Symbolo indicated that the wine was symbolic of the wines of the cellar. This made more sense once I heard that there were no fewer than 17 different varietals in Symbolo. I was told that this wine could not be bought. It is a grand cuvee that is only made in certain years. The one sitting before me was a 2005. For the most part, this wine lived up to its rather extensive hype. It was nicely balanced with raspberry and cherry, moderate acids, moderate to somewhat high tannins, had a rustic, chewy texture in the mouth and was rounded out by leather and and a discrete presence of mushrooms on the finish.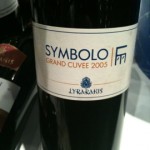 Although I was unable to taste all 640 wines, I made a respectable dent in the lineup. It would be nice if the Wine Expo spanned the course of the 3-day food show, rather than being limited just to the first day. I would gladly set my alarm for 6:15 again to spend another day exploring the magnificent offerings there.