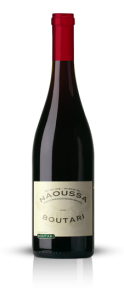 Nightcap #8: Boutari Naoussa 2007, Macedonia, Greece $16
Wines from Greece were not taken very seriously until the last 25 years or so during which there has been a concerted effort on the part of Greek winemakers to produce better quality wines (probably fueled by Greece's entrance into the European Union in 1981). And, let's face it, the country's most famous wine, Retsina, made by adding pine resin to wine, did not do much to elevate their standing in the minds of wine drinkers. But Greece is now giving us wines that merit our attention. This beautiful region with its Mediterranean climate is home to hundreds of indigenous grapes and, although almost all of them are near impossible to pronounce, it is definitely worth the effort to learn how to say at least a few of these Greek names.
One of my favorite Greek grapes is xynomavro (pronounced ksee-NOH-mah-vro). A dark-skinned red grape with high levels of both tannin and acids, xynomavro produces robust red wines. Xynomavro hails from Macedonia, and some of the best red wines in Greece are considered to come from Macedonia's subregion, Naoussa. Boutari Naoussa, made from 100% xynomavro, was the first bottled wine available in Greece in 1879 and continues to be one of Greece's treasures. It is rich and smooth with pomegranate and ripe berry flavors, and tomato notes. As with all great treasures, these wines won't be kept secret for long because, even if the names are Greek to wine drinkers, we still recognize a good thing when we taste it.