What better way to spend the first day of summer than sipping the wines of the Southeastern New England AVA at the Coastal Wine Trail's Wine, Cheese and Chocolate Festival? This event was promised to be the first of several planned this year to celebrate the Southeastern New England AVA's 30th anniversary. The Wine Institute of New England left the familiar surroundings of Connecticut and headed for Westport, Massachusetts to see what the rest of New England was pouring.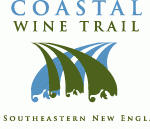 The Coastal Wine Trail weaves its way along the Southeastern New England coastline from Connecticut to Cape Cod. Each winery has its own distinct flavors and personality it brings to the trail. In attendance were ten wineries, each offering tastings of 4 wines to ensure there was something for every palate. The wineries pouring were Stonington Vineyards, Coastal Vineyards, Greenvale Vineyards, Langworthy Farm, Newport Vineyards, Running Brook Vineyard & Winery, Carolyn's Sakonnet Vineyard, Travessia Urban Winery, Truro Vineyards of Cape Cod, and Westport Rivers Vineyard & Winery.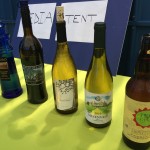 My invitation included entry to the "Media Tent." Although it may have been the lure of V.I.P. treatment that lulled me in, it was what I found under the tent that kept me there. Along with a small showing of select wines, it was here I found the grape growers and winemakers.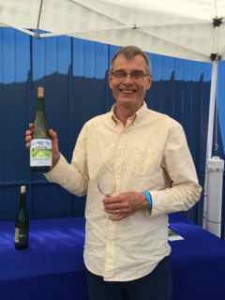 I started off with the 2010 Chardonnay Select from Greenvale Vineyards, a perfect summer sipper. Winemaker Richard Carmichael was on hand to talk about the winery. In addition to three Bordeaux grapes (merlot, malbec and cabernet franc), and two hybrids commonly grown in this region (cayuga and vidal blanc), Greenvale is growing albariño on their 22 acre vineyard. Carmichael explained how this white grape indigenous to northwestern Spain seemed to thrive in the maritime climate at their vineyard in Rhode Island. Albariño grows in Rias Baixas within a region known as "Green Spain" due to its wet, cool climate. Planted 3 years ago, Greenvale's albariño will be making its debut very soon. I can't wait.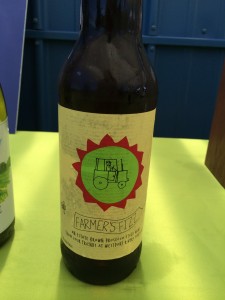 Some cute as heck graphics caught my eye on what looked like a large bottle of beer. It was in fact a beer bottle, but it definitely wasn't beer; it was Farmer's Fizz from Westport Rivers Vineyard. Unlike the original Farmer's Fizz, this newer version of their popular bubbly was produced in the style of a Prosecco. Meaning what? It went through two fermentations, both in the tank (rather than the second one ocurring in the bottle, as in Champagne). Made from 3 chardonnay clones, pinot gris and pinot blanc, it was fizzy, off-dry, refreshing and fun. Grape grower Rob Russell told me that, although they produce excellent examples of several styles of wine, traditional method sparkling wine is the style at which this winery excels. In addition to spotlighting sparklers, Westport puts an emphasis on using estate grown grapes for their wines, the majority of which are dry.*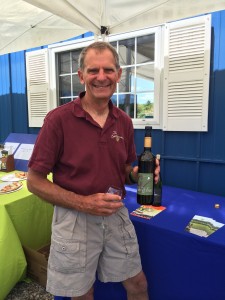 While enjoying his 100% Estate Grown 2011 Cabernet Franc, I chatted with Dave Nielson, winemaker and owner of Coastal Vineyards. Coastal produces 15 wines from their 8 (soon to be 10) acres of vines, including one from the French-American hybrid, chambourcin. Chambourcin, popular on the East coast, was commercially released in 1963 and is typically used as a blending grape due to its intense color. Chambourcin is resistant to fungal diseases, allowing the grower to use fewer chemicals. Coastal makes a sparkling wine from chardonnay and pinot noir using the traditional, or Champenoise, method. Look for this winery to release a red dessert wine this year.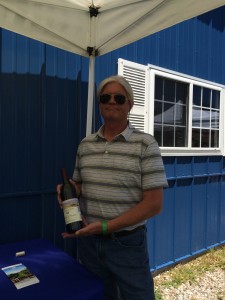 I was happy to spot a bottle of Stonington Vineyards 2011 Cabernet Franc, one of my favorite Connecticut red wines, poised at the end of the table. Standing next to his creation was Mike McAndrew, grape grower and winemaker at Stonington. Although the winery mainly produces single variety wines a là Burgundy, France, McAndrew revealed that a pinot noir-riesling blend, aptly named "Pink Noir," is joining the lineup. While it may be a break from Stonington's more traditional offerings, it is probably not a bad marketing move. Sales of rosé wines increase every year, with imported rosés experiencing 9 straight years of double digit growth, inlcuding a 39% increase in volume in 2013. Like it or not, pink is still in. I happen to like it. (If you like pink, too, click here to sign up for our upcoming class, Looking at the Wine World Through Rosé Colored Glasses)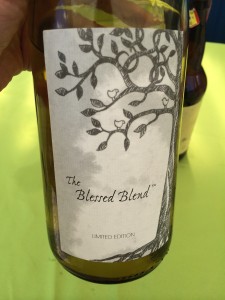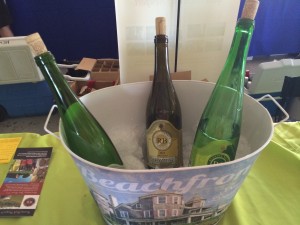 There were many other wines being poured that were worth a second sip. The Blessed Blend Limited Edition by Carolyn's Sakonnet Vineyard (owned by bangle buff Carolyn Rafaelian of Alex and Ani) was a lively, lip-smacking blend of vidal blanc and chardonnay. I also enjoyed the lineup from Running Brook. The festival coordinators broke the day down into sessions. This was great from the public's perspective as it kept crowding at tables down to a minimum. I am already looking forward to next year's festival. In the meantime, this Connecticut dweller will definitely be hitting the Coastal Wine Trail again this summer.
To see what else the Coastal Wine Trail has in store to celebrate the Southeastern New England AVA's 30th anniversary, visit their site: CoastalWineTrail
*During my discussion with Mr. Russell, I was persuaded to visit Wesport Rivers Vineyard & Winery after the Festival. Check future posts to read about my experience there.