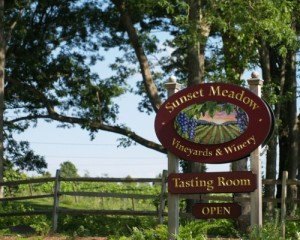 Chef Daniel Chong-Jiménez, Executive Chef at Kensington's Restaurant at the Norwich Inn, will guide you through a three course, hands-on, cooking class. In addition to receiving the recipes, you will be taught techniques for preparing, cooking and artistically presenting each dish.
With each course, you will enjoy a wine from our featured Connecticut winery, Sunset Meadow Vineyards, paired and presented to you by Renée B. Allen, Certified Specialist of Wine and Director of the Wine Institute of New England. We are especially excited to welcome SMV owner and winemaker George Motel III to the dinner to discuss his wines with the guests.
Featured Connecticut Winery: Sunset Meadow Vineyards, Goshen, CT
Overlooking the magnificent sunsets from atop the Litchfield Hills, Sunset Meadow Vineyards produces high quality, estate grown wines. Yankee Magazine's Travel Guide to New England recently named Sunset Meadow Vineyards Best Family Winery in 2010. Vineyard owner George Motel takes great pride in his family's sustainable farming methods and their careful attention to detail. This care is evident in the pristine conditions of both the vineyards and the winery, and is reflected in every glass of Sunset Meadow Vineyards wine.
Reception
Selection of award-winning cheeses from Cato Corner Creamery, Colchester CT
paired with SMV Rosé 
Appetizer
Vanilla sautéed lobster finished with shallot butter, citrus vodka and Farmer's Cow cream served over house-made pappardelle noodles.
paired with SMV Chardonnay  2010
Entree
Toasted cardamom rubbed wild boar with caramelized onions and sauté of pomegranate and blueberries
paired with Twisted Red
Dessert
Molten chocolate soufflé cake with vanilla bean ice cream and Cabernet stewed tart cherries
paired with Pyrrha's Passion
$65 per person. Maximum: 16 guests per class. Advance Reservations Required. Call 860-425-3630