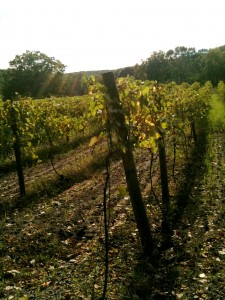 I recently became involved in Connecticut's Farm to Chef Program, a wonderful group whose mission is to connect local culinary professionals with producers and distributors of Connecticut grown products. My involvement began as a result of my work with a few Connecticut chefs committed to producing menus based on locally grown and produced food, and our mutual interest in promoting local wineries. The following is the story of my local journey. It was published in the May CT Farm-to-Chef Newsletter.
On Becoming A Locabibe
I first heard of the Connecticut Farm to Chef program when a mutual acquaintance email-introduced me (the new rage) to Linda Piotrowicz of the Connecticut Department of Agriculture. This acquaintance thought she might be a good connection for me as I navigated the murky waters of beginning my own wine education business in Connecticut. During my course of study for the Certified Specialist of Wine (CSW) examination, we had covered "other" regions, including the Northeast, but there was no mention of Connecticut wineries. A native New Yorker, I did not take the slight too personally, but it occupied a little space in the back of my mind.
Upon successfully completing the course and passing the CSW exam, I had the daunting task of deciding what to do with my new accolade. It was my intention to pursue food and wine writing, an avocation combining three things I held near and dear to my heart. But that little space in the back of my head was troubling me. Why was Connecticut not even mentioned during the preparatory course? And, now that I thought about it, why did I have to leave Connecticut and travel to New York to find a course that would help me prepare for certification in the wine industry? The space these thoughts were occupying in my head was getting a little bigger.
A few months after receiving my certification, I was asked by the same acquaintance, a chef by trade, to provide wine pairings for an all Connecticut-sourced food, hands-on cooking class he was planning. Thrilled by an opportunity to showcase some of the interesting wines I had been researching, including some fascinating organic and biodynamic ones, I readily agreed. There was a catch. The wines would also have to be from Connecticut. I won't lie to you, folks. I knew nothing about Connecticut wines. But I have never been one to back down from a challenge, so I hit the trails. More specifically, the Connecticut Wine Trail. This may have been one of the most enlightening journeys since Dorothy hit the yellow bricks in search of Oz. And, just like Dorothy and her friends, I too found brains, heart and courage on my travels.
Connecticut wineries comprise the most fascinating and talented people. There is no shortage of smarts here – from plant scientists, to cancer geneticists to agricultural experts to business professionals. And when it comes to courage, any home gardener in this state knows the true grit of braving our New England elements. Staking ones livelihood on a business that rises and falls on those elements is certainly an act of courage. But it was the heart of the men and women I met along the way that impressed me the most. I was moved by the passion these winemakers and vineyard owners shared for vinis vinifera (and, in some cases, labrusca) and for the winemaking process. This same kind of passion resonated in the words of the local produce growers whom I had the pleasure of speed dating at this year's Farm to Chef meeting. To grow vegetables or grapes in our challenging climate is a labor of love.
And what of the wines? I found seyval blancs with which I would replace a chardonnay any day, pinot grigios as thirst-quenching as those from Italy, fruit wines, both sparkling and still, to pair with a variety of foods, and cabernet francs that rival some of the best I have tasted from around the globe.
So I asked myself, with such a sweeping and momentous movement taking place right now to eat locally grown and raised food, which supports the local economy and benefits both the environment and our bodies, why shouldn't we feel and do the same with wine? Perhaps it is the lack of a catchy word. After all, the word locavore has all the requisites of representing an important movement: people understand the latin roots – loca=local, vore=to eat, and it has a catchy sound to it. So much so, that it was accepted into common usage in 2007, after being introduced by a San Francisco group trying to spread the word about sustainable agriculture. So I am proposing a word, a term, a movement, to encourage people to think local when pairing their locally caught flounder and locally grown spinach with wine for dinner. I am calling it "locabibe" (pronounced with a long i sound, as in vibe). The rest is up to all of the wine drinkers out there.
SOME OUTSTANDING CT WINES TO TRY:
Digrazia Vineyards
 Honey Blush – An unusual and delicious semi-dry honey and grape wine. Great for those with sulfite
sensitivities because there are no added sulfites.
 Any of Dr. Digrazia's dessert wines are worth imbibing, especially Wild Blue, which has a high antioxidant level,
and the Blacksmith Port, done in a ruby style.
Hopkins Vineyard
 2009 Vineyard Reserve – Estate grown Seyval Blanc in the style of a Viognier with luscious, floral notes and a crisp finish.
 2007 Night Owl – An exceptional late-harvest dessert wine made from estate grown Vidal Blanc grapes.
Jones Winery
 2010 Pinot Gris – CT Specialty Food Association Competition 1st place winner in the white wine category,
this 100% estate grown Pinot Gris is acidic with green apple and melons, nicely balanced and thirst-quenching.
An excellent expression of the Pinot Gris grape.
 2010 Strawberry Serenade – Made from 35% CT grown strawberries and 65% Chenin Blanc from Massachusetts,
this is the perfect sparkling accompaniment to any spring or summer time festivity. The aroma and flavor of the
strawberries is intoxicating without being overly sweet. The 2011 is slated to be released this month and will feature Chenin Blanc from California.
 Black Currant Bouquet – CT Specialty Food Association Competition 1st place winner in the fruit wine
category, this dessert wine is intense, jammy and tart.
Saltwater Farm Vineyard
 2009 Estate Sauvignon Blanc – An elegant example of this grape with floral and citrus notes.
Stonington Vineyards
 2007 Cabernet Franc – CT Specialty Food Association Competition 1st place winner in the red wine category,
this is one of the best expressions of Cabernet Franc I have had in Connecticut. Earthy, with aromas of dark berries
and hints of mushrooms and forest floor.