When people comment on how fun my job must be, I always say, "the research doesn't stink." This is never truer than when I get to combine terrific food with whatever wine I am tasting. Such was the case this week when I had the pleasure of tasting two Mexican wines while being treated to authentic Mexican cuisine at Suzette and Arturo Franco-Camacho's newest food child, Tacuba Taco Bar. Tacuba is the name of a municipality in northwest Mexico City. With this latest restaurant, Chef Franco-Camacho honors his Mexican heritage and his mother's taqueria in Tijuana where he grew up.
My friend and I arrived, with four kids in tow, after spending the day melting from the heat wave moving through Connecticut. We were tired but looking forward to a relaxing evening out in an air-conditioned restaurant. Upon opening the door to the unassuming entrance, we were struck with another heat wave; the air conditioning was out. Undaunted, I strolled in and gave the host my name. My companions followed reluctantly. It was not long into the meal before everyone agreed that we had made the right decision by staying, and that the heat added a touch more authenticity.
Although I am a tried and true foodie, I will save the majority of my prose for the wine and limit the food commentary to one simple sentence – everything was delicious and reasonably priced. The décor is pleasant and fun, a colorful montage of Mexican accented with contemporary touches, such as corrugated aluminum. A giant picture frame on the wall offers a canvas for silently run black and white Mexican movies, a great distraction for the hot and somewhat restless children. In the open kitchen, one can watch Chef Franco-Camacho creating culinary magic. If you really like to be part of the action, you can sit at the counter area directly in front of the kitchen. On the other side of a partitioning wall is the very adult bar, "Swill." I had to run my hand over the wood bar and feel the natural undulations. A chandelier composed of wine glasses provided the very low mood lighting.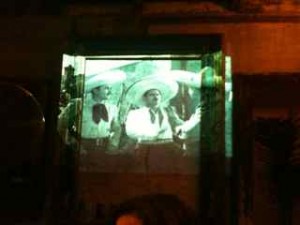 Back in the dining area, we were given menus with only two wines listed: Mexican sauvignon blanc and Mexican cabernet sauvignon. If you are not a wine drinker, there are mixed drinks, beers and 24, that's right, 24, tequilas to choose from. But if you do like wine, I highly recommend you try one of the Mexican offerings.  They go well with the food. I am hoping to return soon, minus the children, to conduct further research at Swill.
L.A. Cetto Sauvignon Blanc 2009
The nose was slightly grassy with tropical fruit notes. Herbaceousness and stone fruits were evident in this mineralic, medium oaked, unassuming wine.
L.A. Cetto Cabernet Sauvignon 2008
The cab also had a mineralic and somewhat flinty taste, with dark red berries, cassis and a bit of earthiness. Medium bodied and smooth, this wine ended with a short finish.
Tacuba Taco Bar, 1205 Main Street, Branford, CT
203-208-0736
wwww.tacubataco.com